SimCon, Simpson Library's annual comic convention, is Saturday, May 18 from 10:00 am - 5:00 pm, and it's going to be better than ever! All events are held at the First Church of God Community Center, 201 E. Green Street, Mechanicsburg, PA 17055.


Featured Activities
Fortnite Dance Off! Show off your best moves.
All day photo op with Star Wars 501st Storm Troopers and other cosplay characters participating in the contest.
Cosplay contest: Pre-registration is required for this event. You can print a registration form online or pick one up in the library. If you wait till the day of the event, there is a $5.00 fee to register. Winners each receive a prize of $25 for each winner.

Categories for judging are:

Best Group
Child – Male and Female
Male – Villain and Hero
Female – Villain and Hero
Nonhuman

PS4 Free game play – 1:00-4:00 pm. Just come down to the play area, put your name on the list and play until you lose your life. The winner continues with the next 3 challengers. Equipment provided by Party Projector Gaming Harrisburg.
LARP experience – Participate in a real LARP (Live Action Role-Play) session!
Photo Booth with many of your favorite super hero characters cardboard cutouts. Don't forget to enter for a chance to win one of them to take home with you.
Marketplace – Posters, games, raffles, collectibles, hand-made items
Face painting – Provided by Katie Foster-Baker
Stan Lee Remembrance – An area to acknowledge the man and his characters.
DD Play all day, Pokémon Tournament, Magic Tournament, raffles
Refreshments - Provided and sold by Upper Allen Woman's Club Foundation
Additional Information
LARP Session - On the main stage you will have a chance to participate and have fun with this glimpse of their games - play along, ask questions, and enjoy!
Xanodria Productions, Inc. has been producing Live Adventures (also known as LARP) for over twenty years. Come try your hand at brewing a potion, creating a spell in our researchable system, or try your hand at boffer combat to prove your skill in our medieval world. Space is limited for this event.
Ultimate Geek Trivia - Come show off your nerd credentials by taking part in the Ultimate Geek Trivia. This year, the trivia will be presented by Cheaters Never Prosper. Your knowledge of a wide array of fandoms will be put to the test. Prizes for the top nerd!
Weapons Policy: No functional weapons are allowed at the Simpson Library SimCon Comic Convention. DO NOT BRING REAL SWORDS, GUNS (INCLUDING AIRSOFT OR PAINTBALL), OR ANY TYPE OF AUTHENTIC WEAPON TO THE EVENT. Simulated or costume weapons are allowed as part of your costume. Weapons in violation of these rules will be confiscated until the owner leaves the event.
Schedule of Events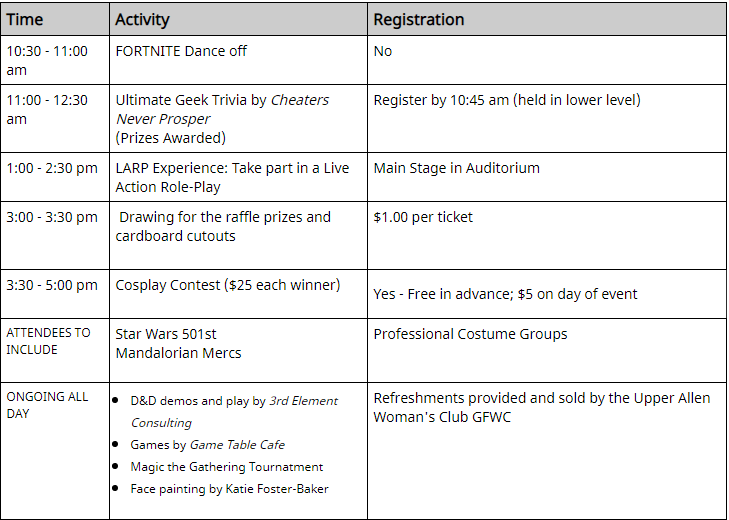 For more information on the event or Simpson Library, please click here.